Leadership & Management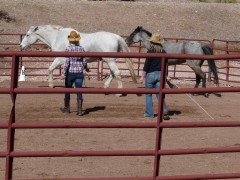 Social intelligence, assertiveness, ability to vision, natural leadership, focused action, cohesive, authentic community.
Horses handle perfectly all the qualities of the 21st century leadership and they can help us to develop them with a remarkable efficiency.
Throughout history, many influential leaders were great horsemen from Alexander the Great to George Washington, to Jeanne d'Arc or even Buddha. Not to mention Zorro or Lucky Luke! What would those 2 have been without their complicity with Tornado and Jolly Jumper ...
They all demonstrated exceptional courage, conviction and an unwavering clarity, which associated with a real talent to motivate and lead large populations, allowed them to create empires or to provoke great social change!
In a sense, they have demonstrated a high level of what we call now emotional and social intelligence.
Through a series of theoretical and practical activities, the workshops give you an opportunity to address topics related to leadership and management from the horses interaction perspective.
Through these activities, horses provide us with a judgement free reflection of our ways of being. They also enable us to test and discover new functioning modes and to rediscover our non-verbal abilities.
Teach us to develop our intuition and listening skills, to be more authentic, to enjoy the moment, to develop our creativity, and to trust ourselves.
These workshops can be organized specifically for a group or a team in a professional context.

Examples of workshops:
• Improve your leadership by activating your non-verbal intelligence.
• The powers of assertiveness in management
• Discovering the impact of your body-language on your team, your colleagues or your managers